Dave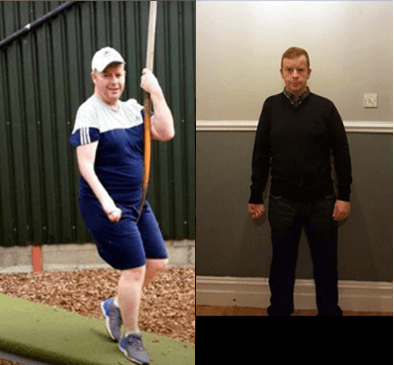 Dave and Shelley joined The Bodyline Clinic together after noticing a friend was already a member at their local clinic. Watching their friend do so well helped to encourage the couple to take the leap and make an appointment for themselves. Little did the couple realise that this decision would end up being one of the best decisions they had ever made.
Dave began his weight loss journey with Bodyline weighing 16 and a half stone and wearing a 42-inch waist.  His weight was starting to cause health issues that he could no longer ignore.  Dave also told us that it was becoming a struggle to keep up with his children playing football. He didn't want to be known as the 'Fat Dad' any longer. He wanted to lose weight for good.
Shelley's starting weight was 14 stone and wearing a dress size 18. Shelley told Bodyline that she was tired of being called fat. She hated the way she looked and felt, and she too wanted to be more active with their children and also lose weight for good.
During the couple's weight loss journey, they found both the nurses and staff at the clinic to be brilliant.
Shelly said, "They are always there to give us brilliant advice and encouragement, especially when the weight loss sometimes temporarily slows down. The atmosphere at the clinic is very welcoming and friendly, and we plan to continue attending the clinic even after we have reached our goals".
Shelley also added, "It's great being able to go to the clinic together. We have a competition each week to see who has lost the most weight and this keeps us on track, focused and motivated".
Both Dave and Shelley have managed to make dramatic changes to their diets, and their hunger levels have been much reduced with the help of the weight loss pills that Bodyline have prescribed them both.
Dave tells us, "We would eat lots of junk food before discovering Bodyline. Our portion sizes were huge – but taking the weight loss tablets has made it so much easier to choose healthier meals and keep the portion sizes smaller!"
Between them, Shelley and Dave have lost four and a half stone!