Leoni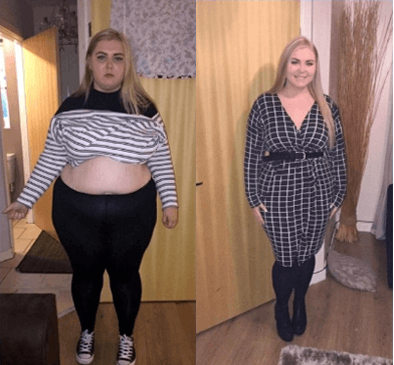 In January, Leoni decided that she needed to lose weight. She knew that being overweight was preventing her from conceiving a child and doctors were unwilling to offer her any fertility help until her BMI fell below 38. Currently sitting at a BMI of 59, Leoni felt desperate and in need of a miracle.
Leoni decided to join The Bodyline Clinic after seeing how well a friend was getting on. Not only that, her friend appeared to be losing weight consistently, without the familiar stop-starts she usually encountered.
During Leoni's first appointment at The Bodyline Clinic, the nurse informed her that she weighed 20 and a half stone. Even though Leoni knew that she was very overweight, the reality of hearing how much she weighed left her feeling completely helpless. Leoni knew that she had gained weight but had no idea it was five additional stone. She couldn't help but sob at the realisation that all those 'just one more servings' had added up to landing her in the obese BMI category. Leoni had very little faith that any weight loss plan would be able to help her.
Leoni was nervous when she first joined Bodyline and didn't know what to expect. She said: "The staff are so supportive and always praised me when I lost weight, which really boosted my confidence and self-belief. I feel as though I have joined one big happy family who always help me feel very welcome and relaxed".
With the regular help and support of the Bodyline nurses, Leoni managed a complete lifestyle and diet overhaul.  Leoni began to plan her meals, and with the diet pills suppressing her hunger, she found that she no longer wanted to indulge in unhealthy snacks. Leoni's entire attitude towards food changed, leaving her looking forward to her weekly weigh-in and the sense of finally feeling in control that they gave her.
By the October, Leoni had lost an incredible four and a half stone.
Her entire life had changed, for the better. For the first time ever, Leoni felt full of self-confidence.  Now she loves to go out socialising, and even braved a bikini for the first time ever!  No longer was she filled with sadness and despair. Leoni felt incredibly proud of how far she had come.
Nearing Christmas, Leoni's weight loss efforts had paid off, and she discovered the news that she had been wishing for – she was pregnant!
Leoni said, "It was a huge shock, but the best news we could ever have imagined, and it all happened without any fertility help from doctors".
She added, "I would never have managed to conceive a baby naturally if I hadn't lost the weight with the amazing help and support of the nurses and staff at Bodyline. I'm now pregnant with such a precious life inside me, I will be forever grateful to Bodyline. I really have got the miracle I wished for".