Rod and Sharon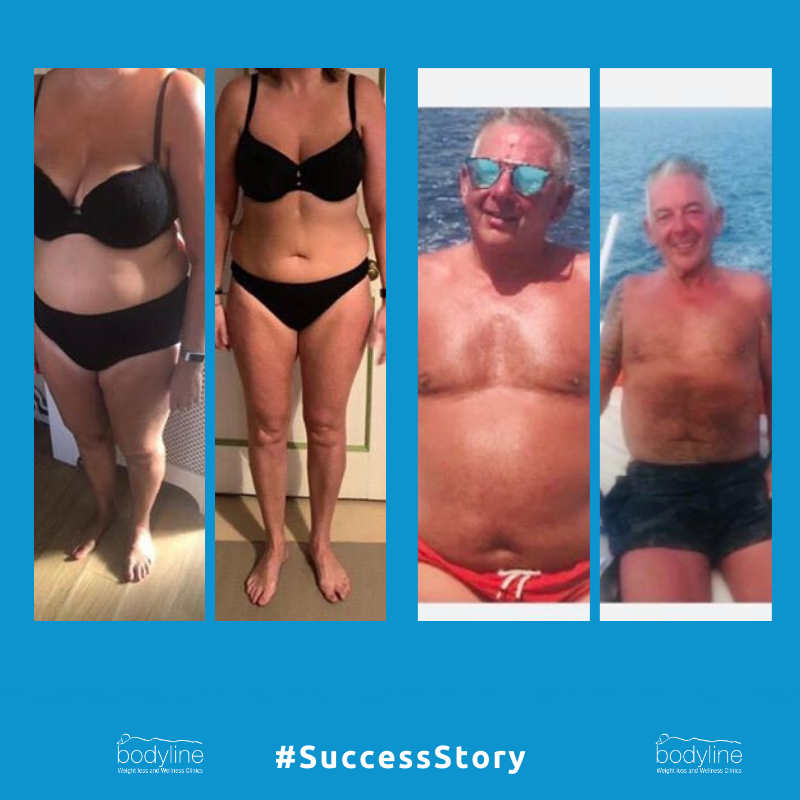 "We tackled our weight gain together and lost 8 stone!"
 Sharon and Rod, a bubbly fun-loving couple from Wilmslow are in it together when it comes to losing weight.
Weight loss: Combined 8 stone – Sharon 3 stone, Rod 5 stone
Bodyline programme: Sharon – Phentermine, Rod – Diethylpropion
A string of injuries and operations meant that Sharon had to stop exercising, which took a toll on her mental health and her weight. During her recovery she was put on steroids, and as a side effect she began to pack on the pounds. No matter what she tried to change, she couldn't stop putting on weight and her clothes size went up and up, while her confidence spiralled.
Sharon was at a low point; she just wanted to get back to her normal weight and feel good in her clothes again.  She confided in a friend and they suggested that she join Bodyline. Feeling self-conscious and afraid to go alone, Sharon convinced her partner Rod to go to the clinic with her.
Within 18months, the couple has lost a combined total of eight stone and they're looking and feeling fabulous.
Sharon said: "I've always been proud of my health and appearance.  Even with two children, I would try to find time to stay active and exercise. I have an active job as well, when I'm at work at a busy function venue, I work very long hours in the evenings and I'm always on my feet rushing around. With my 50th birthday and the birth of my first granddaughter around the corner, I had lots to look forward to. Things went downhill when I had to have an operation after I injured my knee out jogging.
"During my post-op recovery, I was told I had to rest, stop my exercise and reduce movement as much as possible. I quickly started gaining weight.  A problem that was made worse by the steroid medication I was prescribed. No matter how healthy my diet was, the weight just kept piling on.
"My wake-up call came when Rod, my partner, came home after one of his shifts as a builder, and told me that he'd noticed a change in my behaviour. I'm usually a very upbeat person but I was becoming low and depressed."
"I knew I couldn't let this go on any longer, so I confided in a friend who had already lost weight with Bodyline. She told me all about the nurse-led clinics and how much better she felt as a result of her weight-loss. I had tried losing weight myself.  I'd been eating healthily as well as attending a few diet clubs, but nothing had worked so I was understandably very apprehensive.  I was on the point of giving up.  My friend reassured me that the staff at Bodyline were really understanding and encouraged me to give it a try, so I made a booking at my local clinic in Wilmslow; not only for myself but for my partner Rod too as he was keen to lose weight and support me."
Discovering Bodyline Clinic
"We went to the clinic with low expectations and were convinced that Bodyline wouldn't work. When we arrived, we were greeted by a friendly member of staff at reception and sat down in the waiting room where the other clients were chatting away to each other – it felt very comfortable and welcoming."
"My time with the nurse wasn't rushed; she was very understanding and I didn't feel awkward about answering any of her questions. She took my health conditions into account and prescribed Phentermine capsules for me to try.
"Rod had a similarly pleasant experience and was prescribed Diethylpropion.  We both left the clinic feeling really motivated to lose some weight before we returned in one week for a check-up and weigh in.
"We both completely smashed our targets and our expectations of what we could achieve, and the nurse made us feel really proud and excited about what we could achieve!"
"We knew this was the start of our weight loss journey together."
My Bodyline Plan
"18 months down the line and we're a combined 8 stone lighter.  We're both so much happier and have much more energy.  We were always close and had a brilliant relationship; but losing weight together has made us even closer. It has improved all areas of our lives and the best thing is that we can feel proud that we did it together!
"Our amazing weight loss is a result of the ongoing encouragement and motivation from the Wilmslow clinic staff don't we feel fabulous for it! When we go home, the support doesn't stop, as we can access Bodyline's online forum B.O.D at any time, day or night to find lots of expert videos, tips and tricks to help and show us ways to keep the weight off."
"I can't wait to show off my new slim body on our cruise next year for my 50th birthday – I'll be so much more confident, and so will Rod.  He's almost unrecognisable as a 13 stone version of his former self. But the one thing we're most looking forward to is being able to be more active grandparents for our newest arrival in December."
"Thank you, Bodyline for giving us a new lease of life."
*Weight loss will vary due to your individual circumstances and how much weight you have to lose.