Contact Details
Opening Hours
Monday:

Closed

Tuesday:

Closed

Wednesday:

16:30 - 19:30

Thursday:

Closed

Friday:

Closed

Saturday:

09:30 - 12:30

Sunday:

Closed
Bodyline Clinic Crosby
Being overweight can lead to a number of physical and mental problems but we understand that the apprehension of starting your weight loss journey can often outweigh the benefits of taking the plunge and shifting those pounds, so why not choose Bodyline Clinic to help you take that step?
Bodyline Clinic's Crosby branch is located in Waterloo, Liverpool, an accessible location for residents of various areas of Liverpool. A warm and welcoming environment that doesn't have a medical feel, our Crosby Clinic is led by a team of nurses who live and breathe what we do.
The team at Bodyline Crosby are as passionate about your weight loss as you are. We believe dropping the pounds is a team effort, so if you're dedicated to slimming your waistline then our team are too. On hand to provide you with a custom weight loss plan that is tailored to your exact needs, our plans take your current weight, health and lifestyle into consideration, as well as your goals for what you want to achieve, helping you to succeed.
We don't set you unrealistic diets or encourage the use of fad weight loss shakes. We put our trust into medically tried and tested products that have a proven track record of delivering lasting and sustainable results. As well as two well-known appetite suppressant medications: Phentermine and Diethylpropion, we are also now proud to be using a revolutionary new slimming pen in our Crosby clinic called SlimPen, also known as Saxenda.
As well as prescribing you with the physical products you need to get the results you want, the team at Bodyline Crosby are also on hand to offer unlimited support throughout your weight loss journey. Our clinic is open two days a week for consultations and reviews but our email address and phone number can be contacted throughout the week if you have any questions you need answering.
Don't put off a healthier, happier lifestyle any longer. Contact Bodyline Clinic Crosby today to arrange your free consultation to find out how we can help you in losing weight and gaining a whole new lease of life.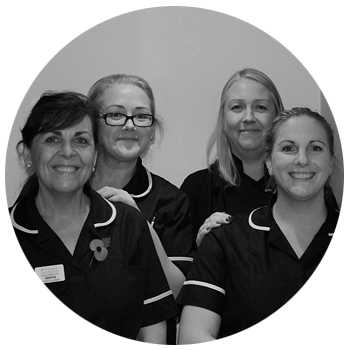 Crosby Team
Crosby Nursing Team
Our Crosby prescribing nurse led team are responsible for delivering to our clients a successful weight loss program from our range of innovative medical slimming and well-being products.
As part of your treatment with Bodyline, our dedicated Doctors and Nurses will support you throughout your weight loss journey, offering one to one, drop-in style appointments, at a time that is convenient to you.  Our research shows that consistent support through our Doctor and Nurse-led care is the most effective approach to your weight loss programme, resulting in the best long-term results for our patients.
Thank you for your message.
It has been sent!