Contact Details
Opening Hours
Monday:

Tuesday:

Wednesday:

Thursday:

Friday:

Saturday:

Sunday:
Bodyline Clinic Shotton
We are now offering remote telephone appointments to allow everyone to continue their weight loss journey. Phone 0845 491 8750 to book in a remote prescription appointment or to arrange collection of your medication.
The Bodyline Clinic are echoing the official guidance from the government and Public Health England (PHE) regarding the prevention of the spread of infection of COVID-19 (Coronavirus). Please see the NHS website here for all advice.
We will be requesting that all clients clean their hands with provided alcohol hand sanitiser upon entering and leaving our clinics and encourage all our clients to continue this practice outside of clinic. If you are concerned about attending our clinic, please be aware that you can purchase up to four weeks' worth of medication in one visit, after your first initial week with us.
Our ninth clinic is set to open in Shotton, Flintshire. Conveniently located in the centre of the town, it's just a six minute walk from Shotton train station, has free parking close by and is easily accessible by other transport routes from the surrounding areas. It's been furnished with the latest technology and its modern design is sure to bring local residents together and help create a healthier, happier community.
The Bodyline Clinic is the only prescription weight loss provider to hold both CQC and Home Office licenses in the UK, and our nurses enter Wales with the passion to help people everywhere reach their target weight with the assistance of our appetite-suppressing medications and natural supplements. You are sure to feel safe in the hands of our weight loss experts.
Our nurse-led team will guide you through a personalised programme, where you will have access to our 24/7 support across diet, exercise and nutrition as well as our medication-led programmes. Bodyline uses safe and highly regarded prescription medications such as Phentermine and Diethylpropion that have a proven track record of helping over 21,500 of our customers. We also offer the SlimPen, also known as Saxenda, which has taken the USA by storm. Bodyline also houses supplements which can be taken alongside these medications, to help maximise the effects and give our customer's a real health boost.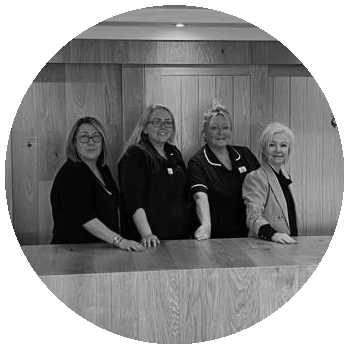 Shotton Team
Shotton Nursing Team
The Bodyline Clinic in Shotton is home to Wales' leading team of weight loss experts. The doctor and nurse led team have years of experience behind them and always have your care in mind.
From your initial consultation, right through to you reaching your weight loss target, our warm and friendly clinical team are there to support you every step of the way. Our unique weight loss programmes have proven results – since opening over 15 years ago, The Bodyline Clinics have helped over 30,000 people to reach their full potential.
Now even more than ever, there is a huge sense of community at Bodyline. Our online digital hub, Bodyline on Demand, offers 24/7 wraparound care with experts in nutrition, movement, fashion and more giving sound advice to help you on your weight loss journey.
Our newly-opened Shotton clinic is conveniently located on the high street, just a few minutes walk from the train station and on many bus routes. We would love to meet you and talk to you about your goals and see which treatment plan would be best for you. We are open Thursdays and Sundays each week, so why not join Bodyline today?
Thank you for your message.
It has been sent!