Contact Details
Opening Hours
Monday:

Tuesday:

Wednesday:

Thursday:

Friday:

Saturday:

Sunday:
Bodyline Clinic Warrington
We are now offering remote telephone appointments to allow everyone to continue their weight loss journey. Phone 0845 491 8750 to book in a remote prescription appointment or to arrange collection of your medication.
The Bodyline Clinic are echoing the official guidance from the government and Public Health England (PHE) regarding the prevention of the spread of infection of COVID-19 (Coronavirus). Please see the NHS website here for all advice.
We will be requesting that all clients clean their hands with provided alcohol hand sanitiser upon entering and leaving our clinics and encourage all our clients to continue this practice outside of clinic. If you are concerned about attending our clinic, please be aware that you can purchase up to four weeks' worth of medication in one visit, after your first initial week with us.
The Bodyline Clinic Warrington is the leading weight loss clinic in the Warrington area and has been helping its clients to keep off those unwanted extra pounds for a number of years. If you are based in the Warrington area and are struggling with weight loss, look no further.
Based on Manchester Road, our Warrington clinic is open on Tuesdays and Saturdays for one-on-one consultations to discuss your weight loss goals in a sensitive environment. We are dedicated to helping you maintain your new slimmer and healthier frame and through our prescribed medications, diet and lifestyle changes, we are confident that you will go from strength to strength with the Bodyline Clinic.
So, what do we offer? Shakes, bars and other off-the-shelf products are a thing of the past. We encourage you to consume a healthy, balanced diet, eating little and often with the help of our medical-grade slimming products. We are able to prescribe well-known medications such as Phentermine and Diethylpropion, helping to curb those calorific cravings. We also now offer the revolutionary SlimPen, also known as Saxenda which has a proven track record of aiding our clients on their weight loss journey.
How safe is the Bodyline Clinic in Warrington? Like all our other clinics, Bodyline Warrington is regulated by the Care Quality Commission and holds Home Office accreditation. Did you know that Bodyline is the only clinical weight loss provider in the UK to hold both of these accreditations? So, we are the safest choice when it comes to losing weight.
We would love to meet you in person for a consultation to discuss your weight loss needs and goals so that we can devise a bespoke plan just for you. Get in touch today for your free* consultation and get one step closer to your dream body.
*deposit paid on booking and refunded in full should you not fit our prescribing criteria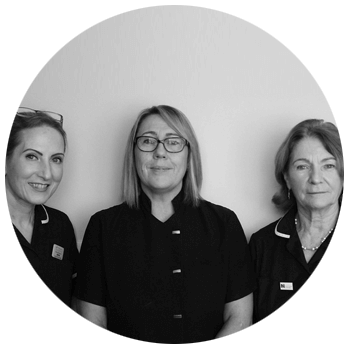 Warrington Team
Warrington Nursing Team
Our Warrington team are available to visit in clinic on Tuesdays and Saturdays to discuss your weight loss needs. Our clinic is staffed by highly qualified nurse prescribers who all hail from credible medical backgrounds in both public and private healthcare.
Each member of our team here at Warrington have been part of the Bodyline family for a number of years and all share a deep passion for weight loss and helping our clients to achieve their full potential. They know all of our products inside out and all take an empathetic approach when it comes to discussing issues that may be sensitive.
To come and meet the team in person and get started on your Bodyline journey, book your consultation at the Bodyline Clinic Warrington today.
Thank you for your message.
It has been sent!