Emma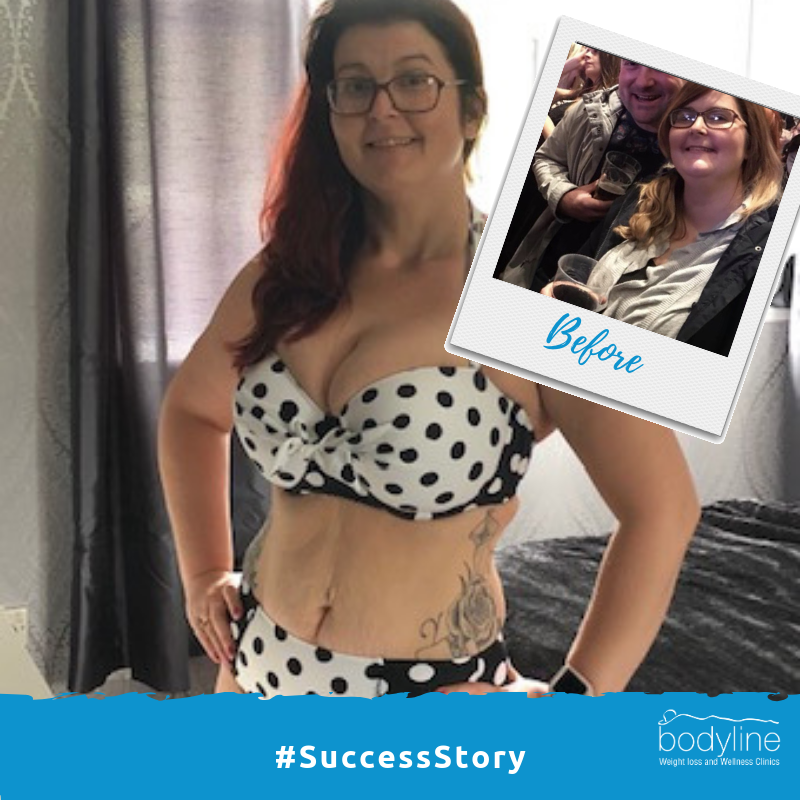 "I was depressed, I hated the way I looked, and I was constantly worried about my health. Now in 5 weeks I'm two and a half stone lighter and feel flipping fantastic!"
 Since losing two and a half stone, in just over a month, Emma no longer hates her body but is starting to embrace her new slimmer self.
I was depressed and I hated the way I looked. I could barely look at myself in the mirror anymore and I used to worry about my health constantly, it was starting to keep me up at night.
Due to an ongoing degenerated disc disease, Psoriatic Arthritis, I have a lot of damage to my joints. The arthritis also attacks my ligaments and tendons, so exercise is out of the question, which as you can imagine makes dieting so difficult for me as hours in the gym is a no-go! 
Discovering Bodyline Clinic
After being so unhappy for so long and attempting every 'fad' diet going – from slimming world to weight watchers, to no carbs, no wheat, C9, juice plus, stackers, t5's and the list goes on and on. I finally turned to Bodyline after a recommendation from a friend, who had lost weight and kept it off. For the first time, I felt I might have found something that would help me. With Bodyline's plans mainly focusing on eating well alongside their support, care and medications and with not as much focus on exercise, I thought it might be exactly what I needed to shift the pounds.
My Bodyline plan
I joined Bodyline at the Warrington clinic, but now I have moved to newly opened St Helens. After my initial consultation, I was delighted to hear I could start on Phentermine – their most popular prescription medication.
I talked through all of my diet struggles and habits, the team were just so lovely and really made me feel at ease. I openly chatted about my comfort eating and how when I tried and nothing happened, I'd just give up and raid the fridge. They suggested I attended weekly to keep the momentum up and have that help-line – and I have!
Success so far…
I have been attending Bodyline since the start of March, and I can't even believe it myself let alone the numerous people I have told – I have already lost two stone!
I feel like my body is already transforming and I am just so unbelievably happy. I have still got two stone to lose, but because of the success in the last five weeks, I want to carry on and I've finally found the willpower to succeed.
I can't stress how easy this has been, I am not craving cake, crisps and chocolate which are my usual weaknesses. Eating healthy has become so easy and simple, I have even found myself buying new ingredients and cooking some really tasty low-calorie meals.
Bodyline is changing my life and I could shout it from the rooftops! A huge thank you to their team. If you are like me and feel utterly lost, call Bodyline you really won't regret it.
Phentermine is only available at Bodyline's clinics. To start your weight loss journey today call our team on 0800 995 6036.
*Weight loss will vary due to your individual circumstances and how much weight you have to lose.
Book an Appointment: