4st 4lbs over 7 months
Rebecca
I would recommend Bodyline and say, "do not hesitate, don't waste time, do it now"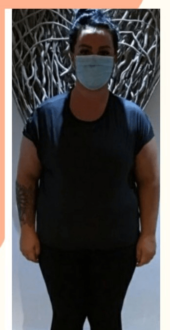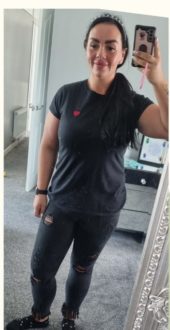 As a mother of two children under the age of 5, I found it hard to focus on myself and especially on losing weight.  Stuck in a pandemic and being at home, able to access food and snacks all day made it that more difficult.
I was nervous when I began my bodyline journey.  Like most people, I had tried other avenues unsuccessfully and was not sure that this would work either.
I am so happy I joined.  I now feel amazing, and I am less than half the size I once was.  I have my pre-mum body back and feel so positive I am oozing in confidence. I am happier, healthier, and far more energetic than I used to be.  I train in the gym 5 times a week and incorporate 10.000 steps in too.
I have always eaten a healthy diet, but the big change for me was increasing my water intake.  Absolutely, 'water all the way'.
If you are considering using weight loss medication, I would recommend Bodyline and say, "do not hesitate, don't waste time, do it now".  I'm glad I did.
Call us to learn more about our medications and treatment plans
Contact us to learn more about how you can achieve you weight loss goals today.
Whether you are looking to lose a little or a lot of weight, we'd like to hear from you. Give us a call for a free initial consultation.
Our team can help you:
Find out which plans and products are best for you
Locate your nearest Bodyline clinic (NW England only)
Book your remote on-line consultation
Enrol in a plan
Or to request a callback, fill out this form and one of our friendly experts will reach out to help find the best plan for you.
Contact the medical weight loss experts now for a free consultation