Three Daily Meal Plans for Dieters
.
31 Aug 2019
Sally Ann Turner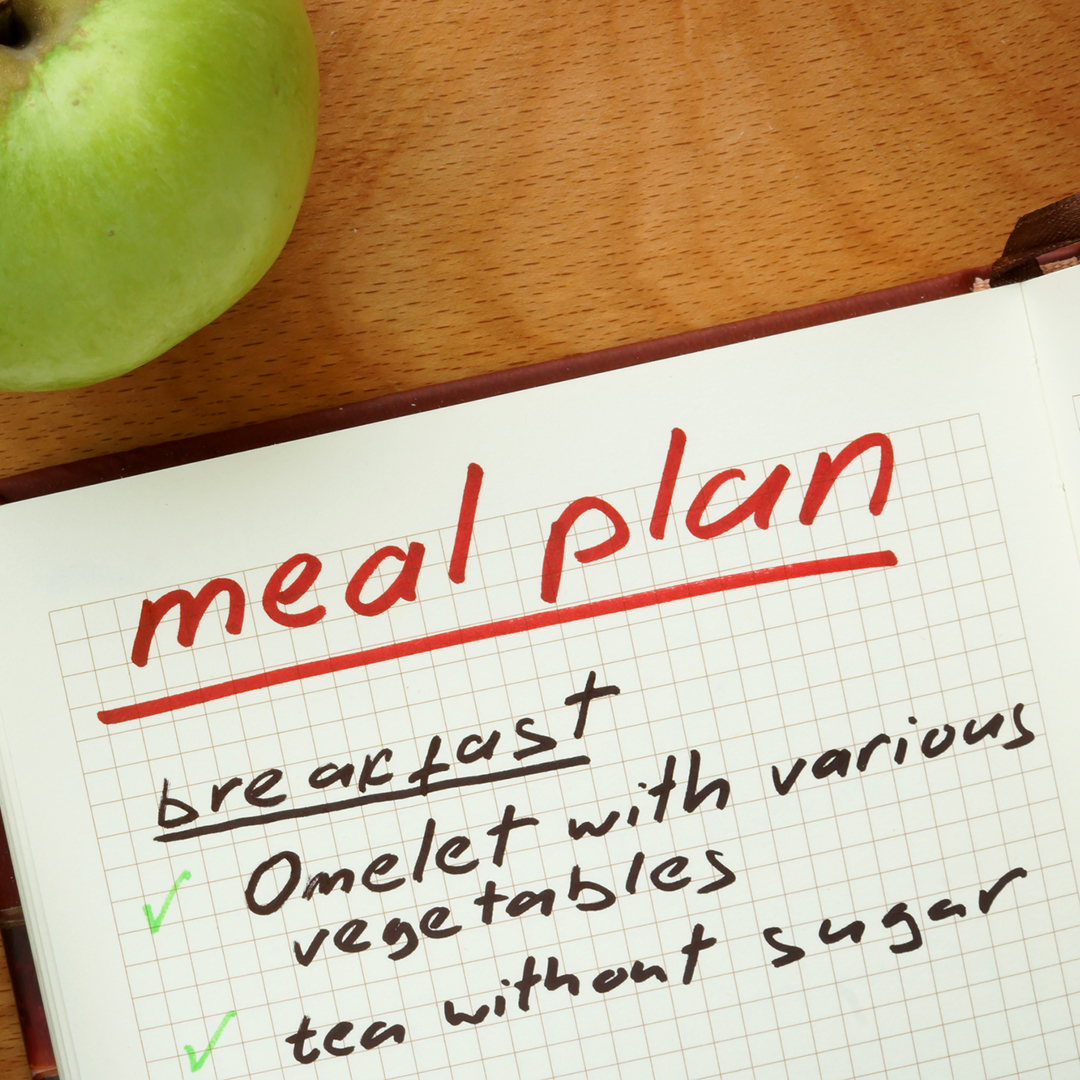 Struggling with meal inspiration when trying to lose weight? It can be difficult to balance your meals and make sure you're taking in all the nutrients you need whilst enjoying an array of healthy and tasty food, so we've prepared three days' worth of meal plans that fit perfectly with the Bodyline Clinic way of losing weight that will keep your menu fresh, interesting and hopefully help the weight to start moving!
Meal Plan 1
Breakfast: Porridge with Banana
50g Oats
300ml Skimmed Milk
1 Small Banana
Total Calories: 427
Make your porridge on the hob or in the microwave according to the instructions on the packet, chop your banana into pieces and lay on top of porridge.
Lunch: Chicken Caesar Wrap
For the Wrap:
1 Beetroot Wrap
100g Cooked Chicken Breast
50g Shredded Lettuce
50g Sweet Mini Peppers
15ml Reduced Fat Caesar Dressing
—
20g Salted Popcorn
Total Calories: 327
Chop chicken, lettuce and peppers lengthways, placing in the centre of the wrap before drizzling with the dressing and rolling. Serve with popcorn.
Snack: Apple and Almond Butter
80g Apple
15g Almond Butter
Total Calories: 139
Chop apple into wedges and serve with almond butter on the side.
Dinner: Sweet and Sour Turkey Stir Fry
100g Turkey Breast
100g Tender Stem Broccoli
80g Sweet Mini Peppers
100g Shredded Carrots
100g Beansprouts
100g Fine Rice Noodles
120g Sweet and Sour Stir Fry Sauce
Total Calories: 599
Fry turkey Breast n a wok of low-calorie cooking spray until cooked through
Add tender stem broccoli, pepper strips, shredded carrots and beansprouts until all vegetables have softened
Add your noodles until soft/cooked
Finish by adding sauce and heating through before serving
Dessert: Quick Eton Mess
1 Meringue Nest
13g Light Squirty Cream
80g Raspberries
Total Calories: 105
Place your meringue nest in a bowl, add the cream and raspberries on top.
Total Calories for the Day: 1,597
50g+ Protein
5 a Day
Calcium
Slow Releasing Energy from Complex Carbs
Meal Plan 2
Breakfast: Yoghurt, Fruit and Granola
100g 0% Fat Greek Yoghurt
80g Raspberries
80g Blueberries
1 Tablespoon of Clear Honey
25g Super Berry Granola
Total Calories: 307
Place your yoghurt in a bowl, top with your washed berries, drizzle with honey and sprinkle your granola on top
Lunch: Quinoa with Chicken and Roasted Vegetables
80g Quinoa
100g Cooked Chicken Breast
80g Sweet Mini Peppers
80g Cherry Tomatoes
100g Red Onion
2 Tablespoons Low Fat Balsamic Dressing
Total Calories: 315
Place the chopped pepper and onions on a baking tray with the whole cherry tomatoes. Spray with low-calorie cooking spray, sprinkle with salt and pepper and roast in the oven for 20-25 minutes
Fry your chicken in a pan with low-calorie cooking spray until cooked through
Making your quinoa according to the instructions on the packet
Once all is cooked, chop the chicken into pieces and mix with the vegetables before adding on top of your quinoa in a large bowl, add your dressing, mix together until all is covered and serve
Snack: Carrot Sticks with Hummus
100g Carrot Sticks
50g Low Fat Hummus
Total Calories: 127
Dinner: Creamy Salmon Spaghetti
1 Salmon Fillet
100g Broccoli
80g Frozen Petit Pois
70g Whole Wheat Spaghetti
30g Low Fat Garlic and Herb Soft Cheese
Total Calories: 469
Bake your salmon in the oven in a tin foil parcel with low-calorie cooking oil, salt, pepper and a little lemon juice
Whilst this is cooking, boil your broccoli and peas in one pan and spaghetti in another
Once everything is cooked, add the spaghetti and vegetables to a large pan over a low heat before breaking the salmon into the pan in pieces. Stir this together before adding the low-fat soft cheese and stirring through over the low heat until all is covered
Serve and enjoy immediately
Dessert: Banana Split
1 Small Banana
13g Light Squirty Cream
15g Milk Chocolate Chips
Total Calories: 249
Cut your banana in half lengthways and place in a bowl or dish
Add the squirty cream on top of the banana and sprinkle the chocolate chips on top
Total Calories for the Day: 1,467
5 A Day
40g+ Protein
Healthy, Complex Carbohydrates
Meal Plan 3
Breakfast: Poached Egg and Tomatoes on Toast
1 Slice of Wholemeal Bread
1 Large Egg – Poached
8 Cherry Tomatoes (vine optional)
1 Tablespoon Balsamic Vinegar
Total Calories: 211
Place your tomatoes on a baking tray with low-calorie cooking spray, salt and pepper and roast until soft
Toast your bread and poach your egg
Place your toast, egg and tomatoes on a plate and drizzle with the balsamic vinegar
Lunch: Tuna and Brown Rice
56g Tuna in Spring Water
50g Sweet Peppers
130g Sweetcorn
1 Tablespoon Reduced Fat Salad Cream
125g Brown Basmati Rice
Total Calories: 356
Mix your drained tuna with the chopped peppers, sweetcorn and reduced-fat salad cream
Boil or microwave your rice to cook
Mix the tuna mix with the rice and serve
Snack: Popcorn
14g Sweet and Salted Popcorn
Total Calories: 68
Dinner: Chicken Caesar Salad
100g Cooked Chicken Breast (cook from raw at home)
2 Unsmoked Bacon Medallions
80g Romaine Lettuce
50g Sweet Peppers
85g Cucumber
25g Croutons
10g Shaved Parmesan
15ml Low Fat Caesar Dressing
Total Calories: 380
Cook the chicken in a frying pan with low calorie cooking spray, frying the bacon in the same pan once the chicken is cooked
Add your washed lettuce to your serving bowl before adding the chopped peppers and cucumber on top
Add the chopped chicken, bacon and croutons on top of the salad before pouring on the dressing and adding the cheese shavings
Dessert: Strawberry Sundae
125ml Cornish Vanilla Ice Cream
50g Chopped Strawberries
15g Strawberry Sauce
1 Meringue Nest
Total Calories: 222
Place your ice cream in your bowl or sundae glass
Add the washed and chopped strawberries on top
Crumble the meringue on top
Pour your strawberry sauce on top
Total Calories for the Day: 1,237
50g+ Protein
5 A Day
Healthy, Complex Carbohydrates
So, if you're just starting out on your weight loss journey and worried about being hungry, eating too many calories or are simply struggling to get creative with meals, these three daily meal plans are all low calorie, offer plenty of fruit, vegetables, protein sources and even healthier, complex carbohydrates, providing you with a balanced yet low calorie selection of dishes to choose from.
You can stick to these plans exactly or mix and match the meals to suit you but with this guidance, you can stay full, eat good food and lose weight!
Call us to learn more about our products and services
Whether you are looking to lose a little or a lot of weight, we'd like to hear from you.
Give us a call for a free initial consultation.
Our team can help you:
Find out which plans and products are best for you
Locate your nearest Bodyline clinic (NW England only)
Enrol in a plan
Or to request a callback, fill out this form and one of our friendly experts will reach out to help find the best plan for you.