Bodyline's Bolognese
.
20 Jan 2019
Sally Ann Turner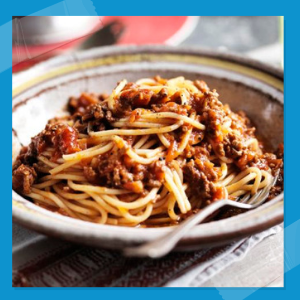 When you look at the spaghetti Bolognese ready meals available across the five major supermarkets here in the UK: Tesco, Sainsburys, Asda, Morrisons and Waitrose, the average spaghetti Bolognese ready meal ranges from around 404 calories to 561 calories with anywhere from 12.2g of fat all the way to 27.4g of fat, which if you're trying to eat well to support weight loss, is not going to help.
Healthy food doesn't have to involve tiny portions and a lack of flavour and our healthy spaghetti Bolognese recipe, aptly named 'Bodyline's Bolognese' is a cleaner and healthier alternative to your pre-made Bolognese meals you can pick up in the supermarkets.
Not only could you be reining back calories, fat and salt, you'll also get the peace of mind that you're eating high quality, clean food that is full of ingredients you recognise and can actually pronounce!
So, if you're looking for something full of flavour, easy to make and SYN free on Slimming World for dinner, why not give our healthier but equally as tasty Bolognese recipe a go?
Prep and Cooking Time: 55 Minutes
Serves: 4 People
The Spaghetti Bolognese Ingredients:
Low Calorie Cooking Spray
2 Onions, Roughly Chopped
2 Carrots, Peeled and Roughly Chopper
2 Celery Sticks, Roughly Chopped
2 Garlic Cloves, Crushed
500g Lean Beef Mince (5% Fat or Less)
2 x 400g Cans Chopped Tomato
2 Teaspoons of Dried Oregano
1 Beef Stock Cube
Dried Spaghetti (recommended amount of spaghetti for 4 is around 450g) or Spiralised Veg such as Courgette
Crisp Salad to Serve
How to Make Spaghetti Bolognese:
Spray a large non-stick frying pan with your low calorie cooking spray and place over a medium-high heat. Once warmed up, add in your onions, carrots, celery and garlic, add a light seasoning of salt and pepper and stir fry for 7-8 minutes.
Add your 5% fat or less beef mince to the pan, breaking up with your spoon and cooking for 3-4 minutes or until completely browned. Drain off any excess fat in your pat and then add your chopped tomatoes and oregano before crumbling in the stock cube and bring to the boil.
Cover your pan, lower the heat and leave to simmer for around 30 minutes.
Whilst your Bolognese sauce is simmering, boil your spaghetti or spiralised veg of choice according to the cooking instructions.
Once everything is finished cooking, portion your Bolognese sauce and spaghetti into 4 bowls and serve with equal portions of the salad.
The cleaner, healthier way to enjoy one of the country's favourite Italian dishes, there's no guilt about indulging in something delicious when you choose to cook the Bodyline way!
Call us to learn more about our products and services
Whether you are looking to lose a little or a lot of weight, we'd like to hear from you.
Give us a call for a free initial consultation.
Our team can help you:
Find out which plans and products are best for you
Locate your nearest Bodyline clinic (NW England only)
Enrol in a plan
Or to request a callback, fill out this form and one of our friendly experts will reach out to help find the best plan for you.